New Release: AuthorMe paperback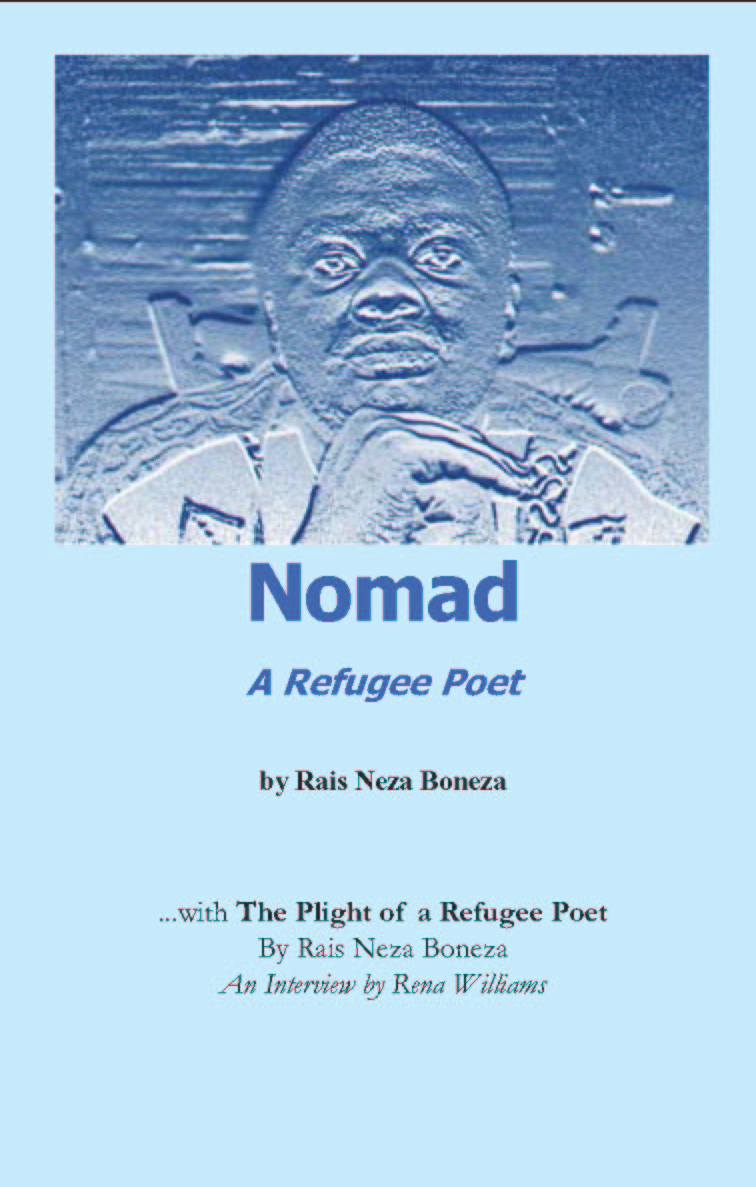 Leave or Die," he was told. Driven from home by the authorities in République Démocratique du Congo, Rais Boneza escaped with his family and thousands of other dispossessed people. He shuffled from one neighboring country to the next: Burundi, Rwanda, and Uganda. Border guards purloined his writings. Arriving in Uganda he wrote again, creating Nomad, a precious collection of his hopes, dreams, and an outcry for the conditions he sees in the land he loves. Read his verses and experience the hidden misery faced by a refugee in a land of political strife, bloodshed, and yet – a brilliant promise.
ISBN : 0-9726996-1-9
Library of Congress Control Number: 2003111058
Published by
Cook Communication
P. O. Box 451
Dundee, IL 60118
© 2003 Rais Neza Boneza
All rights reserved.
| | | | |
| --- | --- | --- | --- |
| | | Links | |
Your own list of A/Me titles - click here!

Quick Jump:
[ Fiction | Poetry | NonFiction | Publishers | Children's | Satire | Translations| Personal | misc ]
---
URL: http://www.foresttrailacademy.com/
Title: Online guidance councelor
Desc: Academic Excellence provides online high school courses, online high school diploma program to student
any time, any place.
Greg's Walker Story Time Books

Fiction Writing Tips, Marketing Books
Online resource for new authors wanting to refine their writing or internet marketing skills. Features free, expert-written articles on both the craft of writing fiction and internet marketing, free writing and marketing newsletters, a Short Story Ezine for new authors, a Blog, and useful links.
Like Heaven Writing Holidays - Siena, Italy, June 25 - July 1, 2006 (Writing workshop)
Long Story Short School of Writing ...Our online writing classes are of wide variety, emcompassing nearly every phase of the craft of writing.
Write and Publish Fiction is an informational web site for fiction writers searching for guidance and assistance with writing and publishing. Designed by a writer for writers, Write and Publish Fiction is a one-stop site for the tools, information, and resources you need to become a successfully published author.
The Steed Zone: Speculative Fiction author Kelly Steed offers writer advice, an extensive writing resources page, newsletter and weblog
WriterInside.com - writer's website with contests, exercises, resources
www.kwani.org:

Kwani Trust has published the journal Kwani? once a year since 2003:

contemporary fiction, poetry, Kenyan Hip Hop and, in the latest issue,

Kwani? 03, new journalism features with hard-hitting revelations.

Fiction 101 and Randy Ingermanson's Website
A Drifter's Legacy
Grandma's Bible Studies
---
Satire
The Horn of Plenty
---
Publishers & Publicity
Clive Pyne Book Indexing Services
Whether you're an author or publisher, home business owner or collection agency professional, my site has the perfect solutions for you.
Bookner peer-reviews manuscripts and gives a weighted Bookner Rating, helping talented writers get contracts with major publishing houses, and allowing overworked literary agents to focus on their core function.
AntiBookner Blogspot warns writers of negative aspects of joining Bookner.
Arthur Kinn International Publishing House
International book publisher. Accept submissions from authors of fiction (including juvenile, sci-fi and fantasy) interested in getting published abroad. Publish books in translation (English, French and German). First time and international writers welcome.
---
---
Easily available consultants - Help for troubled teens, boarding Schools for troubled teens. We offer both wilderness training and academic training for troubled teens.

Acne?

... the Acne Resource Center. Book Reviewing & Author Interviewing Site

www.bestfriendspetcare.com Boarding your pet is our expertise. Our professional

pet boarding kennel facility will make being away from your dog, cat or other pet less stressful. Our pet boarding kennels are clean and safe.
Speed Reading Mysteries Revealed: Triple YOUR reading speed fast! Results guaranteed! Advanced reading resources for the entire family!
Rackmount computer / rack mount server Kontron offers industrial PC products such as rack mount computers and servers, single board computer, PC104 plus, embedded systems, atx motherboards, computer telephony, and more.
copyright 2005

AuthorMe.com