The Author's Workbook by Patricia Fry
Review by Bruce Cook
Here is a useful workbook for authors who have realized they must roll up their sleeves and get to work if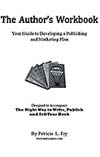 they want to sell their own books.
A well-coordinated workbook to accompany Fry's "The Right Way to Publish and Self Your Book," this resource covers project planning, evaluation, choosing a publisher, manuscript identity, book proposal, query letter, logs, selling a self-published book, book promotion plans, bookkeeping, and resources.
Patricia Fry brings the voice of tough experience to new writers, and she does better than anyone else in balancing the idealism of a new writer with the realities of the marketplace..
Any new writer is well-advised to purchase and use both of these resources, for mistakes can be very expensive and personally disappointing.
--------------------------------------
Author-Publisher Contracts (continued)
They can be scary, too, for they are written by intellectual property lawyers who are being paid by publishers, and therefore they represent the publisher's interests – not the author's.
Surprisingly (at least to lawyers), much writing is published with no more than an informal agreement of some kind For example, a writer sends a manuscript to a website and the website publishes it, as on author-me.com. In this case, there can be no dispute about permission to publish, for the author has personally sent the work to the publisher for public display.
However, imagine the case where such a manuscript the author. is sold to a major publisher and becomes the blockbuster of the year. In this case, the publisher will obtain permission, perhaps with a letter to the website and, as a measure of good will, the website will advertise the new book online at no cost. But most importantly, the publisher will establish a formal agreement, or contract.
For a smaller circulation manuscript, a contact becomes desirable when special demands are made. For example, if the author keeps demanding complex revisions, and expects the publisher to reprint a book repeatedly, sometimes for simple one-word changes here and there, and the publisher is now faced with high costs, even if the book has sold no more than a single copy! (Yes, this has happened.) Or, imagine the (too rare) case where a publisher manages to sell thousands of copies of a book, leaving the author to wonder what the royalties will be.
Basically, a contract is a formal agreement, usually prepared by an intellectual property attorney hired by the publisher. It is a template, and the names of the author(s) and titles are filled in. Its contents are governed by law books and cases in the area named for resolving any conflicts. But usually it will at least include the word "agreement" (or contract), give the names and street addresses of the parties, describe their shared interest in the work, describe the terms of the agreement, name a place for resolving disputes, and specify when the agreement will expire. (And, if you are luck, it might even start with the word "Whereas"!)
The "terms" are specific parts of the agreement, like designating who will pay for cover art. More important are restrictions on rights to publish the work. For example, at author-me, when we publish a book (using a Print on Demand printer), we will only ask for first rights to a work, while commercial publishers will want all rights, and sometimes even demand first option on future works by the author. Author-me limits itself to first rights because we seek to help new writers, while other publishers seek to make a profit.
In the past, author publisher contracts were fairly predictable, for they were only written when there was a reasonable expectation that a publisher could sell a work at profit, or otherwise publish the work in support of a program of some kind.
Presently, the availability of Print on Demand services has radically altered the publishing landscape. Now it is typical to publish a work and sell no more than 10 or 20 copies or even fewer, and in these cases a contract seems superfluous. However, it is valuable if the writers starts to make unreasonable, expensive demands on the publisher, or if the publisher starts to publish the work in many places without the author's consent.
It is sad, however, to see authors (and those who give friendly advice to authors) to apply the practices of large commercial publishers to a work where there will only be a few sales. What is really needed is a high level of trust and professionalism in the working relationship between author and publisher. At the same time, both parties will benefit from knowing exactly what is expected of them.
In any case, if either party becomes too demanding, the author publisher contract can become necessary, even though it certainly is legalistic.
--------------------------------------
Workbook for Writers!
Get Your Publishing Project Off the Ground or Out of the Gutter
Finally, someone has developed a WORKBOOK to help you chart your course through the writing, publishing and marketing process. Read Patricia Fry's newly revised book "The Right Way to Write, Publish and Sell Your Book" (366-pages) and then use her "Author's Workbook" to evaluate the potential for your project and guide you in achieving your publishing goals. Guaranteed to increase your potential for publishing success.
Please rate this Ezine at the Cumuli Ezine Finder. http://www.cumuli.com/ezines/ra79672.rate AOL Users Click Here