Submit your story for edit & publish or our next paperback anthology. (Mention anthology in the subject line. Other stories will be considered for normal posting on Author-me.com.) View our recent books. (No poetry please. Submit poetry to our workshop if you like.)
---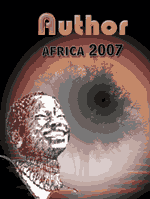 The gift of successful writing has again brought to the forefront the creative minds of nine talented, African writers whose skills are reflected through out the pages of "Author Africa 2007." These brilliant writers have demonstrated through their works that "the pen is mightier than the sword," their creativity and their craft of writing is like a flower garden beginning to bloom……….inspiring and intriguing!
Please help the Sudan...
Old Bibles on hand? Please mail (book rate, educational materials) to this address:
David C. Cook III

Jenny Wren
Present tense stories Bible times by Jenny Wren (Lois Blashak) and the late David C. Cook III
Cover Art for your book!
Consider author-me artist
Mention "Cover Art" in the Subject Line
(see cover below)
Whatever is portrayed in this work, one can look into our daily mirror of life, which we shall, indeed share, because of our common origin and appreciation of life. In the midst of all our sufferings, life ought to be carried on. Those who sing the dirges of such traumatized nations are; orphans, widows, refugees, disabled, AIDS victims and the displaced. From the street corners, refugee camps, funeral homes, bus stations, market squares, and deserted villages, we shall sing our songs, on our own behalf and for our ancestors who are long gone before us. If we can fix ourselves in these few pages of The Bone Of My Heart, let us do it!
REGISTER with AuthorMe (free)
The mission of AuthorMe.com is to offer hope to writers that go unnoticed in the publishing world.
- Kathy Hartwell (Bio)
This site is dedicated to the memory of
---
---
Issue Seven of Crossing Borders Magazine - virtual literature journal - is now available online. The magazine is edited by Becky Ayebia Clarke, publishing the creative work; short stories and poetry of around 36 Crossing Borders participants over a year.


This edition includes:


Introduction by Becky Ayebia Clarke
'Independent Publishing: Targeting a Culturally Diverse Niche' by Becky Ayebia Clarke

'The Hunger' by Blessing Musariri

'The Love Within' by Hazel Couvaras

'Leaving on a Jet Plane' by Stephen Mugambi

'The Rule of the Game' by Jackee Budesta Batanda

'Mavambo: The Beginning' by Batsirai Easther Chigma

'I Am' and 'Tread Lightly' by Fungai Machirori
---
Vista - A highly-specialised MONTHLY magazine which will soon go into circulation from Lagos, Nigeria, is looking for columnists from all over the world in the following areas:

1. INSIDE ASIA (a column that looks at developments in the Asian continent, with particular attention paid to cultural issues). 2. SITES [ancient ruins and sites, archaeology, Egyptology, world heritage sites, etc]. 3. MOVIE REVIEW/MUSIC REVIEW 4. GAMES (Sudoku, Awale, football, etc methods and rules of play). 5. GARDENING 6. PETS. 7. FARMING 8. DISCOVERY (A look at trends, speculations and breakthroughs in technological and medical research e.g. The Semantic Web, the new Airbus A380). 9. THE COSMOS (space exploration, galaxies, astronomy). 10. UNDERWATER. 11. CARTOONIST/ARTIST

Interested writers should send an email, indicating area(s) of interest to ehichoya@gmail.com for guidelines, following which they will be required to send in two sample articles, following the guidelines they will be given. Payment will be per every article used.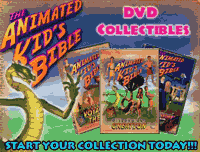 Your kids will delight in the timeless tales of courage, faith & endurance with characters like Adam & Eve, Noah, Moses, Abraham, Jesus of Nazareth, and the Apostles.
Our truly unique DVD's bring biblical stories and characters to life. The Animated Kids Bible will cement their favorite biblical stories and characters in their memories for all time, by first entertaining them, and then helping them to develop deeper understanding and knowledge. Click here

New book release? Post your book's Press Release here.
Have you had a good (or bad) experience with self-publishing, book promotions, or literary agenting? Please share your experience in our Self-Pub-Watch. - AuthorBoard.com.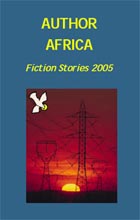 Just Released!
Author Africa 2005 and Author Africa 2006 . Click here.
(Use Altavista BabelFish for Chinese, French, German, Italian, Japanese, Korean, Portuguese, or Spanish)
Register in Your Own Language
Read our latest issue of AuthorMe.com's Publishing Emerging Writers Newsletter. Click here Read past issues here
New York Times book reviews. Click here
London Review of Books.
Click here
Colleges & Universities
(Visited author-me Jan 23-29 '07)

alma.edu
buffalostate.edu
byu.edu
ccsu.edu
colum.edu
cornell.edu
devry.edu
dordt.edu
fsu.edu
gmu.edu
kennesaw.edu
maine.edu
miami.edu
mica.edu
nau.edu
northwestern.edu
okstate.edu
purchase.edu
redlands.edu
smith.edu
spu.edu
ucsd.edu
uiowa.edu
uncc.edu
uwyo.edu
Vanderbilt.Edu
wednet.edu
wsu.edu
wustl.edu
wvu.edu
Author-me on the go!
Try Author-me on your web-enabled cell phone.
Feature
Port Sudan Journal, by Victor Lugala (Sudan) Posted 2/3/07
The end of my journey to Port Sudan was the beginning of yet another torturous journey in my life. This sea side city was like a large open prison. The common stereotype here held that, a stranger who enters the port remains shackled to the strings of an octopus in the sea bed. I refused to believe it but at the same time I was wary of the thought. I didn't come here to sentence myself to life prison, anyway.
A Brief Visit Back to Britannicus, by Leslie Weddell (UK) Posted 2/3/07
In the 400 years (or thereabouts) that the mighty conquering Roman Army occupied the mainland of 'Britannicus' (better known today as Britain) all they wanted to do after a hard decade or two of killing, pillaging and raping the whole place, was to just settle down to a quiet life of ruling the country.
God Talks to Abraham, by Jenny Wren (USA) Posted 2/4/07
I can just imagine God looking down from the Heavens upon His creation in the 2000's as He talks with Abraham of Old Testament days. Abraham stands beside God while He ponders His once-great creation, earth; the creation which had thrilled His heart. Now He sees what it has become.
Europe
Rwanda - France: Ill Diplomatic Relations, by Dr.Claude Shema Rutagengwa (Norway) Bio Posted 1/20/07
The year 2006 ended up with cutting ties between Rwanda and France. This is a result of an unsolved conflict of more than a decade. No doubt, there my have some victims who suffered in one way or another because of this broken relationship.
Faith and Crime in an Old and Civilised World, by Dr.Claude Shema Rutagengwa (Norway) Bio Posted 1/14/07
Before the arrival of western religion to many African and Asian countries, those countries had their own manor of faith. The influence of western faith as a new culture has made many positive and negative changes in traditions/cultures in many countries, especially poor ones.
Africa
Nandi's Grief, by Jane Musoke-Nteyafas (Uganda) Posted 1/6/07
Namusoke was gorgeous. She was God's African masterpiece. Her skin was a beautiful combination of dusky black skies and golden kisses. Her large almond-shaped brown eyes, were so dark, they looked like black jewels. They were eyes that always seemed to be laughing.
The House of Khol, Chapter 2, by Sonny Azeez (Nigeria) Posted 1/14/07
"Poor child, she must have almost danced herself to death," said one of the chubby women standing over Cartelia's unconscious body. Their complexions were pale and their cheeks, rosy, as if it was in a constant state of blushing. They both had their hands folded in front of their laps and stood at the same height. The only difference between them lay in their eyes. Prudy had green, slanting eyes, while Nuby had deep, blue almond eyes.
Gobah and the Killer Healers, by Bob G. Kisiki (Uganda) Posted 1/6/07
They were taking one such walk one day, when the sun went down on them. They were very far away from home, and Marla started to panic. 'We'll be fine, Marla dear,' her brother comforted her.
USA - America, Write for Us!
Write a How-To First, by Patricia L. Fry (USA)
Posted 1/28/07
Are you eager to write a novel, a memoir or a children's book, but you are intimidated by the enormity of the task? If you've done your research, you know that publishing is a daunting undertaking. And there are no guarantees that your book will be successful.
Eldercare - In the Life-Care Home, by Jenny Wren (USA)
Posted 1/29/07
1. Do not look at me when you see drool sliding down my chin, unnoticed by me. Instead of turning up your nose, why not get a tissue and gently wipe my chin for me. (I would for you, if the roles were reversed.)
Reaching An Loc, by Alfredo G. Herrera (an author-me paperback) - excerpt of Chapter 1
Posted 1/1/07
In basic training, our Drill Sergeant was, what I thought, a large black Staff Sgt E5. I remember him because he had a long scar on his left cheek. We were very scared of him and thought he was the biggest guy we had ever seen.
In June Billy received his promotion to first Lieutenant, and with that came a sizeable pay raise, which enabled us occasionally to eat more than hamburger and tuna, and to buy ice cream and cokes.
---
A Plowing Memory of Yore, by Jenny Wren (USA) Posted 12/23/06
Europe
Conflict in Eastern Congo (DRC) - Peace Perspectives, by Dr.Claude Shema Rutagengwa (Norway) Posted 12/24/06
Elections Towards Peace and Stability
In D.R. Congo, by Rutagengwa Claude Shema (Norway) Posted 9/30/06
Africa
A Taste for Eggs, by Chaltone Tshabangu (Zimbabwe) (Selected for Author Africa 2007) Posted 12/16/06
Pacific
Last gasp, Priscilla - Chapter 17 - BlackEagle Girls - a novel by Ken Mulholland (G, Australia) Posted 12/16/06
Queen Helen of Sparta in the Secret Garden, by Kenneth Mulholland (Australia) Posted 10/21/06
Canada
Going Home, by V. U. Umelo (Nigeria) Selected for Author Africa 2007 Posted 8/27/06
Rwanda...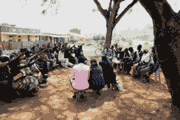 Between April and July 1994, Rwanda went through one of History's darkest periods; an estimated more than one million Rwandans were brutally killed by fellow Rwandans in a very systematic state planned genocide unheard of in recent history
Confronted with the prospect of sharing power with exiles fighting for the right of return, the regime in Kigali at the time marshaled all its resources, including masses in Rwanda 's country side and mobilized them to kill in groups so that none would be individually held responsible for genocide at the end of the day.
Cyril, by Leslie Weddell Posted 7/15/06

Jesus' Style in Aliat, Darfur

Current Reviews
View our poetry sites...
---
Peace of Mind - from Dr. Claude
---
List these titles on your website. Automatic updating. Click here.
---
---
RSS News Feed - AuthorMe Manuscripts - Click here for instructions (free) View RSS feed Click here for the feed.

---
WORKSHOP
CROSSING BORDERS
Issue Eight of Crossing Borders magazine is now available online. The magazine is edited by Becky Clarke, publishing the creative work; short stories and poetry of around 36 Crossing Borders participants over a year.
This edition includes:
Introduction by Becky Ayebia Clarke

Feature article 'Facilitating a Creative Writing Workshop' by Véronique Tadjo

'Where is the Rain?' short story by Wame Molefhe from Botswana

'Reversed Roles' short story by Stephen Mugambi from Kenya

'The Blue Bible' short story Grace Maguri from Zimbabwe

'Seasoning' short story by Stanley Gazemba from Kenya

'A Song of Africa and Other Poems' poetry by Fredrick Mulapa from Zambia.
URBAN CHRISTIAN SUBMISSIONS
Urban Books presents its new Christian Fiction imprint, Urban Christian. Urban Books is an African American publishing company that has a distribution deal with a major publishing house, Kensington Publishing. With over 50 authors published under "Urban Books" (street meets drama) and its newest imprint, "Urban Soul" (women's fiction), Urban Books is now adding Christian fiction to its repertoire. Through this divine journey of moving stories, Urban Christian is the voice that will take the Urban Books readers to another level; the spiritual side of the craft.
URBAN CHRISTIAN Writing Guidelines:
Genre: Christian/Inspirational fiction
Fiction Manuscript word length: Range of approximately 65,000 - 85,000 words
Manuscript pages: Range of approximately 260-300 pages
Submit your Story to Author-me.com...
New Chance for e-books?
Check out Sony's new ebook reader, a portable reading system with technical advantages. Then ask yourself, given Sony's strict digital rights management system, what are the chances a Emerging Writer could even hope to place a book into that emerging market? See a tough analysis by Dan Farber.
Read... Northern Uganda: Ugandan Artists Continue to Speak Out, by By Jane Musoke-Nteyafas

Stanley Makuwe, a Zimbabwean writer living in Auckland, New Zealand together with Tinashe Mushakavanhu a writer living in Zimbabwe have organised a writing competition titled Mazwi Edu (Our Voices) to try and assist disadvantaged unpublished writers living in Zimbabwe.
There is little new coming out of Zimbabwe and one way to encourage people to write is by introducing a competition. The ethos of the competition is less about winning but more about creating space for a new generation of Zimbabwean writers. Mazwi Edu Writers Competition is committed to supporting the development of Zimbabwean Literature. Write Tinashe

---
America - Write with us!
Show your creativity on Author-me.com
Do you have what it takes to be an Author-me Editor?
We want you to join us. Show us what you have and we will show your work off. Volunteer by filling in this form (click here).
---
S February Author-Me Newsletter
SELF PUBLISHING SUCCESS DOES HAPPEN, by Jim Barnes

WRITE A HOW-TO FIRST by Patricia L. Fry
To read these articles and subscribe, click Publishing Emerging Writers!
---
Tiger Marketing: Are you a pre-published novelist and serious about improving your
craft? Are you a published novelist and intent on marketing your book? Award-winning novelist Randy Ingermanson invites you to receive his free Advanced Fiction Writing E-zine, a monthly newsletter packed with info on the craft and marketing of your fiction. Randy is the inventor of the famous Snowflake method. Click here

Recommended Reading... Writer's Craving for Change
In the Beginning - for kids - by Jenny Wren
Someone asked me to tell in my own words how I see what I read in Genesis? And how did it look to my mind's eye? So, as somewhat of a writer (with a vivid imagination)… about the scene I vision when earth and creation first began… (Click any item below)
---
New - Illustration Stories from Larry Brenza
Brenza's Challenge! - Wiki edit my story, Nightmare's End... Or else!
---
Author Spotlights
by Leslie Weddell
---
Visit our sister site AuthorMark.com
List these titles on your website. Automatic updating. Click here.